Save the dates: November 14-15, 2020
Supported by The Graciela Chichilnisky Environmental Fund
in Honor of Natasha Chichilnisky-Heal

Panelist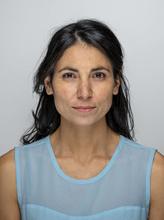 Jamie Haverkamp
Research Fellow and Lecturer, Anthropology & Environmental Policy, University of Maine
My research on climate change adaptation is squarely situated within the domain of climate justice. Beyond paying attention to uneven distributions of climate impacts among historically marginalized communities, my work aims to understand the ways in which formal adaptation responses (policy and development) threaten to reproduce the social vulnerabilities and inequalities which they intend to redress. Ethnographically, I trace the (re)production of social inequality and vulnerability through climate resilient development in the Peruvian Andes, and argue that climate adaptation in this context constitutes a governing rationality that justifies the continuation of historic land grabbing and the coloniality of power in the Cordillera Blanca.
Presentation
Collaborative Survival and the Politics of Livability in Transitionary Times
Abstract
Climate change promises to bring forth a future of uncertain and challenging events in which divergent worlds collide, conflict, and collaborate for survival in transitionary times. Yet,collaborative adaptation responses remain not well understood, particularly in terms of the relational and political dimensions of this practice. This paper seeks to push beyond collaboration as an assumed good and contributes to deeper theorization and conceptualization of the arts of collaborating within the context of climate adaptation and sustainable development. The paper draws upon participatory and ethnographic engagements in the struggle for collaborative adaptation to rapid glaciermelt in the Peruvian highlands between 2015 and 2018. Insights are derived from various qualitative methods that allowed for following through a network of local to global adaptation actors (State institutions, development NGOs, and campesinos) as they worked towards a common goal of becoming resilient to ensuing radical landscape changes.  
By paying attention to divergent adaptation imaginaries, as well as historically produced uneven geographies of power upon which current adaptation strategies are materializing, this study illuminates "frictions" that emerge from collaborative engagements and the systemic oppression of local ways of knowing and being.
This study finds that, through a privileged adaptation discourse, State and transnational actors enact a techno-scientific and developmentalist-adaptation reality that is indifferent to the needs and preferences of highland inhabitants. I argue that, adaptation in this way performs a 'coloniality of power' that perpetuates the erasure of social alterity from world-making projects. As a counter-proposal, I call for doing adaptation otherwise, that is, decolonially. This practice is informed by the relational ontology of highland campesinos, and strives to create an alternative approach to formal adaptation that allows for rights of self-determination and the empowerment of designs from "below".
Tags
Policy and Governance
,
Indigenous rights
,
Local or traditional knowledge
,
Climate justice
,
Climate change