Save the dates: November 14-15, 2020
Supported by The Graciela Chichilnisky Environmental Fund
in Honor of Natasha Chichilnisky-Heal

Panelist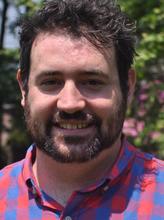 Eric Goldfischer
Doctoral Candidate, Department of Geography, Environment, and Society, University of Minnesota
My research on climate change adaptation is squarely situated within the domain of climate justice. Beyond paying attention to uneven distributions of climate impacts among historically marginalized communities, my work aims to understand the ways in which formal adaptation responses (policy and development) threaten to reproduce the social vulnerabilities and inequalities which they intend to redress. Ethnographically, I trace the (re)production of social inequality and vulnerability through climate resilient development in the Peruvian Andes, and argue that climate adaptation in this context constitutes a governing rationality that justifies the continuation of historic land grabbing and the coloniality of power in the Cordillera Blanca.
Presentation
"We too are Ecological Engineers": Homelessness Sustainability and Green Infrastructure
Abstract
This paper explores the relationship between the onset of green infrastructure in public urban spaces and the efforts of homeless activists to resist displacement. As part of a global push for sustainable development, many municipalities are undergoing "grey to green" infrastructure transformations, utilizing policy tools to incentivize both public and private actors to convert "underused" areas associated with industrial economies into green infrastructure such as linear parks, rainwater recycling systems,and horticulture-driven plaza areas. However, the benefits of these sustainability projects are not distributed evenly.
Building on an ethnography of New York City's green plaza program, conducted alongside a homeless-led grassroots organization, this paper uses NYC as a case study to examine how homeless communities respond to the displacement that often arises from green infrastructure and other sustainable development projects in urban spaces. Perhaps unsurprisingly, the governance of these projects, while at times cloaked in the language of equity and democracy, largely bypasses communities most directly impacted by infrastructural projects to instead work with private-public actors such as business improvement districts. However, homeless activists and other grassroots groups have successfully organized for community-controlled land and public space, while reconceptualizing infrastructure to include informal economic and environmental activities such as can-recycling, theorizing this work as a form of infrastructure governance in itself. Taking this approach seriously, this paper considers how this epistemology might be applied to sustainable development in order to not only prevent displacement, but create an alternative reckoning over the value of green infrastructure as a mode of service provision and emplacement.
Tags
Policy and Governance
,
Indigenous rights
,
Local or traditional knowledge
,
Climate justice
,
Climate change